Air Conditioning Repair, Air Conditioner Repair & A/C Repair

Odessa, FL, Tampa, FL, Wesley Chapel, FL, Trinity, FL, Carrollwood, FL & Town 'n' Country, FL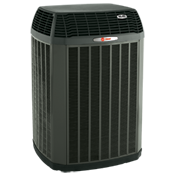 Problems with your air conditioner in the Greater Tampa Bay Area? Turn to the professionals with proven integrity for repair. Since first opening our doors in 1978, Nuccio Heating & Air Conditioning, Inc. has sorted out every conceivable malfunction with all makes, models, and styles of residential and commercial cooling equipment. We've demonstrated our commitment to honesty, fair pricing, and higher standards of workmanship. Our clients stick with us over the long-term, because they trust us to always deliver exceptional value.
Efficient Air Conditioner Repairs
Family owned and operated, Nuccio Heating & Air Conditioning, Inc. upholds old-school traditions that begin with a friendly and knowledgeable staff and end with your complete satisfaction. We keep up with industry developments and draw from leading-edge technology to provide accurate diagnosis.
Give our team a call for all your A/C repair needs!
Our factory authorized team brings over thirty years of experience to every job, ensuring cost-effective strategies and solutions that hold up to demand. We don't settle for the temporary fix or resort to high-pressure sales tactics. Nuccio Heating & Air Conditioning, Inc. takes every step to optimize the efficiency, capacity, reliability, and sustainability of your air conditioner. Start with us for cooling system repair anywhere across Tampa, Carrollwood, Westchase, Odessa, Trinity, Lutz, Wesley Chapel, and Town 'n' Country, FL.
Central Air Conditioning Repair ∴ Trinity, FL ∴ Tampa, FL ∴ Westchase, FL